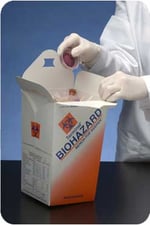 The work of medical laboratories, whether they are microbiology, virology, hematology or the dozens of other types of labs, often involves the handling and disposal of contaminated waste. It is inevitable and not something to be treated lightly. There are a number of important factors to consider including Regulatory Procedures such as those outlined in OSHA guidelines, DOT regulations and the various disposal options available to properly dispose of biohazardous waste. In addition to those, you must determine what types of biohazardous waste containers fit your needs. When making that decision, there are a couple of significant factors to consider.
Avoid Laboratory-Acquired Infections


First and foremost is the real and present danger of Laboratory-Acquired Infections. Any laboratory staff member who works with specimens, cultures and other types of infectious samples is at risk. Infectious bacteria can be transmitted via the air and inhaled, via a puncture wound/needle stick and through absorption though skin cells.
In the 1970's the first safety regulations were put in place for microbiology labs in the United States. There was an increased focus on the matter and educating laboratory personnel around safety issues was intensified. Among the ways in which laboratory professionals were schooled to prevent danger to themselves and the environment included topics that are very familiar in 2017…the importance of wearing protective clothing, the importance of safely functioning equipment and the safe handling of contaminated waste.
Safe Handling Waste


The safe handling of waste is a topic all on its own. Thousands of lab professionals deal with hazardous waste every day. And while there are many systems in place to deal with the disposal of these contaminants, it is still necessary to keep the dangers top of mind.
Take for example, the ubiquitous red biohazard bag lined, hard sided waste containers on the work benches in the laboratory. True, when the bag is full, the bag is removed and replaced with a clean bag. But, what about the container? The container has been subject to contamination by any dangerous microorganism that was in the vicinity of the container or tossed into the bag. Ask yourself, when was the last time that container was properly cleaned and disinfected? Is that a job that falls within the realm of housekeeping staff's duties…if so, are you certain if was properly sanitized? Standard cleaning solutions are not strong enough to kill infectious bacteria.
OSHA requires that when a container has a "reasonable likelihood for being contaminated with blood or other potentially infectious material" it should be cleaned and decontaminated on a regular basis and immediately upon visible contamination and records kept of the process. Are you confident that is happening?
Additionally, there are studies that show that the surfaces of reusable containers can harbor dangerous germs, even after contamination. One study showed that more than 99% of reprocessed waste containers tested positive for bacteria*. Another showed that 30% of containers tested positive for serious viruses including 10% with HIV**.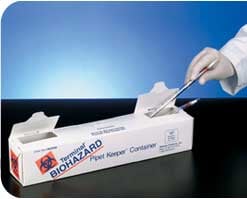 Economic Advantage


Secondly, there is an economic advantage to properly used single-use waste containers. Think for a moment about what items routinely get thrown into the sharps container nearest you. Are there items that don't need to be thrown in a hard sided sharps container…pipette tips, microbiological loops, petri dishes, gloves, swabs, plastic vials and test tubes? That sharps container is likely at least three time as expensive as a disposable container and to fill it up with items that don't belong it is costs money! Add to that, the fact that most biohazardous waste removal services charge by weight as well as quantity, and extra items in the sharps container will cause costs to increase.
The solution here is for Lab Managers and staff to research the alternatives. Obviously, staff and environmental safety are your first priority and saving money is always a good plan.
* Neely, Alice; Maley, Matthew; Taylor, Gary - Investigation of single-use versus reusable infectious waste container as potential sources of microbial contamination.
** Runner, Jack C. MBA, MT(ASCP), SM(AAM) Sandusky, Ohio Bacterial and Viral Contamination of Reusable Sharps Containers in a Community Hospital Setting