eShield™ is specifically

developed for Smart

phones in the OR.

In the operating room surgeons use smart phones to access patient data and clinical images, consult with peers on interesting or difficult cases, and even play live or recorded music during surgeries. As the first FDA approved sterile cover for electronic devices,
eShield™
will enclose phones so they can be conveniently positioned for the surgeon's direct control from the surgical table. This real solution for a real problem aids patients by limiting interruptions and delays in the OR and saves money by eliminating the need to re-glove.
eShield™ easily accommodates

aseptic technique.

The eShield cover creates a barrier from contaminants on devices.
It features:

ANSI/AAMI PB70– Liquid barrier performance certified.

Optically clear polyethylene film.

Touch screen compatibility with gloves.
Nurses responsible for managing the OR can rest assured that the eShield will help reduce disruptions and protect the sterile field from contaminants on devices.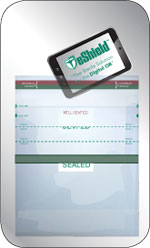 Phone Brands



Apple (4, 4s, 5,5s), HTC One; Nokia,
Samsung Galaxy Note, S4, Mega;
Motorola Moto X, Droid Max, Mini; LG G2; Kyocera Torque; and most other phones.

eShield Details
Overall Size — 9" x 14"
Usable Size — 9" x 5.5"
SKU — EC2100
Shipped — Carton of 25