eShield™ Sterile Covers for Tablets & iPads

eShield™ is specifically

developed for tablets

in the OR.
Tablets have become a valuable tool in the operating theater. Surgeons use tablets to access medical apps to plan surgery, look at images, view videos and consult with peers in real time on interesting or difficult cases. The first FDA approved sterile cover, eShield™ encloses tablets so they can be conveniently positioned for the surgeon's direct control from the surgical table. This real solution for a real problem gives surgeons immediate access to medical information at the point of care which can save time, reduce costs, errors, and optimize workflow in the operating room.
eShield™ easily accommodates aseptic technique.
Features of our Sterile Sleeves for Tablets
The eShield™ cover creates a barrier from contaminants on devices. It features:
Meets ASTM 1670 Standards: Resistance of a Material to Synthetic Blood Penetration.

Enables use of surgical apps in the sterile field.
Optically clear polyethylene film for sharp photography.
Touch screen compatibility with and without gloves.
Nurses responsible for managing the OR can rest assured that the eShield™ will help reduce disruptions and protect the sterile field from contaminants on devices.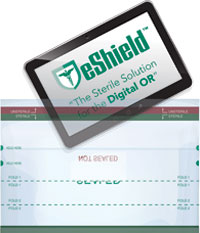 Our Sterile Tablet Covers Work with the Following Brands:
Apple iPad and iPad mini, Amazon
Kindle Fire, Microsoft Surface Pro,
Google Nexus, Sony Xperia,
Dell Venue, Sony Xperia and most
other tablets.
Details of our eShield™ Sterile Tablet Covers
Overall Size — 14.5" x 18"
Usable Size — 14.5" x 9.5"
SKU — EC2300
Shipped — Carton of 25