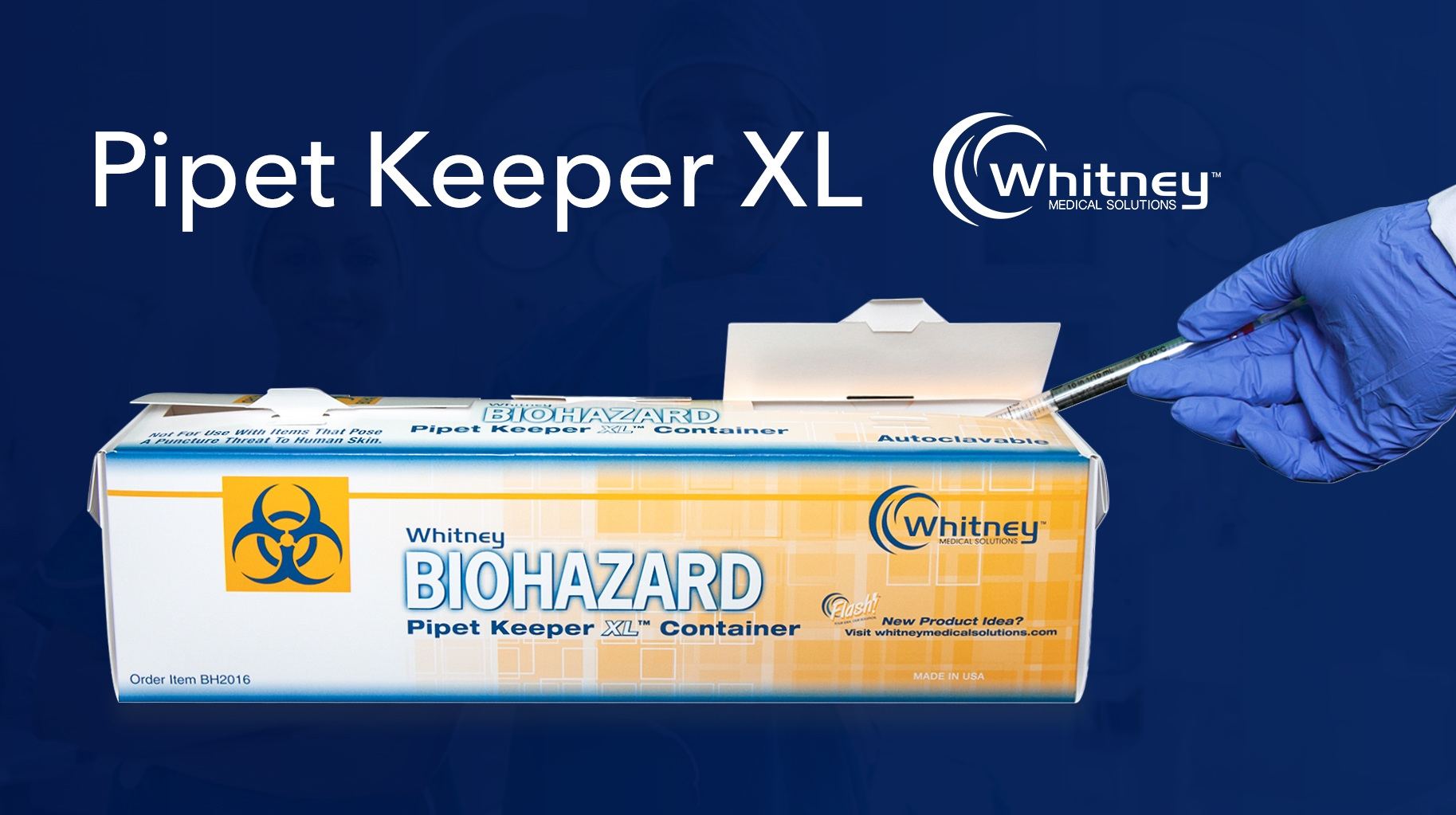 Niles, Il., - Whitney Medical Solutions, Inc. is proud to announce the introduction of Pipet Keeper™ XL, the company's newest product for disposing of biohazardous waste. The large new waste container allows laboratories to dispose up to 75% more pipets, swabs, and other biohazardous objects than previously available with the standard Pipet Keeper™. With the Pipet Keeper™ XL, objects up to 16 inches in length are easily disposed of right at the workstation, an inch longer than the standard Pipet Keeper™. Biohazard waste can present a sizable risk in the lab. The Pipet Keeper ™ XL helps reduce the risk to lab staff and the environment.
Constructed from strong paperboard, a renewable resource, the Pipet Keeper™ XL is a cheaper solution than plastic containers, allowing laboratories safe biohazard disposal options at a low cost. Plastic lining with webbed corners gives Pipet Keeper XL ™ the ability to hold moderate amounts of liquid and avoid soak through, keeping workstations clean to meet high lab standards.
Simplify your waste disposal and recordkeeping requirements. The OSHA Bloodborne Pathogens Standard states for reusable containers: All bins, pails, cans, and similar receptacles intended for reuse which have a reasonable likelihood for becoming contaminated with blood or other potentially infectious material shall be inspected and decontaminated on a documented, regularly scheduled basis and cleaned and decontaminated immediately or as soon as feasible upon visible contamination [1910.1030(d)(4)(ii)(C)]. Disposable waste containers eliminate the need for recordkeeping and scheduled cleaning. The Pipet Keeper™ XL is a disposable container designed to be convenient and save time.
"Convenient and easy to assemble" – Angio BioCore
"Reduces biohazardous waste and less mess" – OHSU
"Fills an important need" – Georgia Tech
If you are interested in learning more about Pipet Keeper XL waste containers, or would like to receive a sample, please visit www.PipetKeeperXL.com.
About Whitney Medical Solutions:
Whitney Medical Solutions™ is a designer and manufacturer of hospital supplies and medical devices. Founded in 1984, Whitney has served the medical community by developing innovative products for nearly 40 years. Focused on the medical community and the needs and issues that prevent medical professionals from getting their jobs done efficiently and effectively, Whitney finds Real Solutions For Real Problems™ in healthcare environments. Contact Whitney Medical Solutions at (800) 338-4237 or visit their website at Whitney Medical Solutions.