eShield™ is specifically

developed for Digital

Cameras in the O.R.

Digital cameras have become a valuable tool in the surgical suite
. Recording procedures including resections enables surgeons to consult with peers in real time. Photos help educate residents on interesting or difficult cases. The eShield™ is the
only FDA approved, disposable sterile cover
created to enclose cameras so they can be conveniently positioned giving surgeons direct control of these devices from the surgical table eliminating the need to re-glove. For digital cameras, the eShield™ includes an adhesive ring that holds the lens to the bag wall improving photo quality and eliminating unnecessary light. This real solution for a real problem lessens delays and interruptions which aids both patients and surgeons.
eShield™ easily accommodates

aseptic technique.

The eShield cover creates a barrier from contaminants on devices.
It features:

Ultra-clear polyethylene film for super sharp pictures.

Touch screen compatibility with and without gloves.

Made in the USA
Nurses responsible for managing the OR can rest assured that the eShield is intended to help reduce disruptions and protect the sterile environment from contaminants on devices.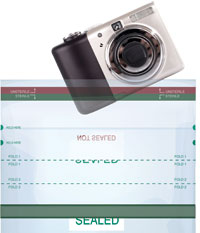 Camera Brands



Apple Canon, Kodak, Nikon, Olympus, Panasonic, Sony and most other cameras.

eShield Details
Overall Size — 9" x 14"
Usable Size — 9" x 5.5"
SKU — EC2200
Shipped — Carton of 25